Thursday November 10th 2016 | 11:36
Welcome to our November Newsletter….
Latest news
Hi Bakers,
Following on from last month's information, you may have seen that we were featured in Take a Break magazine and our website was shortlisted in the ECommerce category for the Wirehive 100 awards. At the award ceremony we were placed 2nd in this category which is an amazing achievement for such a new company, thanks to our web team at Reflect Digital who have done an amazing job
Great British Entrepreneur Awards 2016
We have also being shortlisted in the Food and Drink Category for Great British Entrepreneur of the Year 2016. Winners are announced at the end of November. Fingers crossed!!
.We were approached by a Government team for some bakers to supply 'top tips' for national baking week and gained additional coverage through this. Thanks to those bakers who helped us to contribute.
Activities through the site are increasing and some amazing cakes and bakes are being delivered across the UK, whilst we are also heavily involved with sourcing items not appearing on bakers pages. Please update your pages with as much variety as you wish to do, and continue to update your diary to ensure we can see availability at a glance. We are conscious that some areas of the country have not picked up as well as others and are working hard to target these areas.As you will see, these events and activities are all designed to raise awareness of our company. The teams are continuing to work tirelessly to continue to feed the message out to the market and utilising all social media platforms and online advertising to spread the word.
As we are feeling continually more confident of the sales coming through the site and as a way of supporting bakers in those areas, we want to guarantee that should you not have received £100 worth of sales by the renewal of your subscription ( our earliest renewal for any baker is July 2017), we will offer the second year on the site free of charge.
Please continue to send through your pictures of bakes (whether created through our site or not), as we will happily share stories and pictures. We have joined many local Social media sites, but please let us know if you feel we are missing anything in your area, that we should join and contribute to – to continue to drive the message ' An edible alternative to sending flowers'
We exhibited at the Cake and Bake Show in London from 7-9th October, thanks to all our bakers who popped in to say hello, it was so nice to actually put a face to a name as we rarely get to meet our bakers. We are exhibiting at the Cake and Bake Show at Event City, Manchester from 10th to 13th November. If you are attending please pop along and see us, you will find us on Stand C520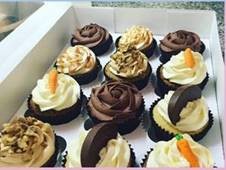 Cupcakes have been our best seller of the past few weeks, Here's an example of an assortment of cupcakes for sale, minimum box size of 12 @ £25.00 consisting .. Coffee & walnut, carrot cake, banoffee, vanilla with chocolate orange and a chocolate rose.
Customers have commented how easy it was to order them from the site having seen them displayed. Please continue to update your pages with your cakes and bakes so we can tempt more customers!!
We are happy to share…..
Please e​mail us any Christmas cakes or bakes you would like us to share across our networks.
If there are any pictures on your site, not displaying correctly- please email mums@mumsbakecakes.co.uk and we will upload them for you- Remember- a picture paints a 1000 words- and the best pictures will get sales!
Ask@……
We often get requests through our 'ASK@' for unusual/specific cake requests and we do also chase requests around the world where we notice people asking for cakes/cupcakes etc, there are, therefore, occasions where we have been coming out to bakers for specific costs.
Please be assured all the cakes request for prices are all genuine requests and at all times when we come out to a baker for a cost- we don't put it out to anyone else.
We have already checked your site, to see that you 'roughly' can accommodate the request, and we don't start any 'bidding war' it's one baker or nothing. Unless the baker turns it down obviously!
We will chase up all requests with the client, and will endeavour to sell our service to them. So your assistance with this would be appreciated, as we are often on a tight schedule when the requests come in. Unfortunately, as with the nature of baking, some people have no idea of the cost of the request they have enquired about, however, as we continue to drive sales through the site, people are getting more confident as they are able to make a rough estimate based on what they can already see has been created by searching through your baker sites.
Here's your chance to win…..
We have 2 signed books from Nadiya Hussain (2015 GBBO winner) which we will give away to two of our bakers. To be entered into the draw all you have to do is recommend us to your friends and colleagues. If they register as a baker with us before 30th November you will be entered into the draw. Just in time for Christmas!!
Thanks for your continued support. Please keep sharing news with us, and sharing our concept with colleagues, friends and family!
'NOW…..There is an edible alternative to sending flowers!'
Kind regards
Paula and Richard
To Order
Join our baking army
For all our Social media pages follow the links below
Email us

Special Offers